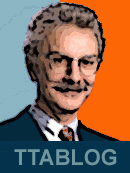 Today marks the twelfth anniversary of the TTABlog.  Yes, the first-ever posting of the TTABlog was on November 8, 2004.  Congratulations and thanks to John L. Welch for all these years of service to the trademark community!
By comparison the Ant-Like Persistence blog is a mere 2½ years old.
Again, kudos and thanks to John!