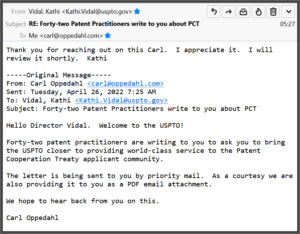 (Update: we now have a phone call scheduled with the acting director of IPLA. Read about it here.)
It was at 7:25 AM today (Eastern Time) that Forty-two Patent Practitioners wrote to Director Vidal, with eight "asks" relating to the Patent Cooperation Treaty, and sent a courtesy PDF copy of the letter by email. Two minutes later, Director Vidal answered the email (see at right). She wrote:
Thank you for reaching out on this … . I appreciate it. I will review it shortly. Kathi.