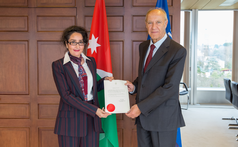 On March 9, Ambassador Saja Majali of Jordan deposited the Instrument of Accession to the Patent Cooperation Treaty with the International Bureau of WIPO. This means that the PCT will come into force for Jordan on June 9, 2017.
This brings to 152 the number of member States for the PCT.
The two-letter code for Jordan is "JO".