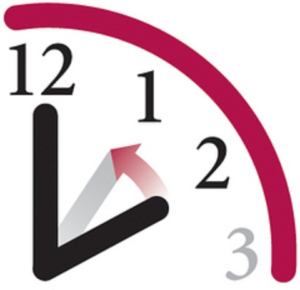 On October 25 I blogged that US filers filing documents at the International Bureau needed to pay extra close attention to what time it is in Switzerland. The reason is that in Switzerland, Daylight Saving Time stopped happening on October 25. But did not happen on that day in the US. This meant that for the past week, a US-based filer in (for example) the Mountain Time zone would have to e-file in the IB before 3PM to get a same-day filing date. This differed from the usual drop-dead time of 4PM.
Today (November 1, 2020) is the day that Daylight Saving Time stopped happening in the US. The consequence of this is that the time difference between the US filer's time zone and the time at the IB is back to normal. So for a US-based filer in the Mountain Time zone, the drop-dead time returns today to the usual 4PM.
This change affects for example a US-based filer filing a PCT application at the RO/IB, and it affects the US-based filer filing a design application in the IB's Hague Agreement e-filing system. It also affects the US-based filer filing documents at the IB relating to the Madrid Protocol, such as for example a Subsequent Designation.
Most readers of my blog will appreciate that the correct terminology is not "Daylight Savings Time" but "Daylight Saving Time".
Many readers will also appreciate that it is likely that the year 2021 will be the last year during which Europeans will be setting clocks forward and back. There have also been largely feckless efforts in various states of the US to bring an end to this clock-changing. I personally would like it if the place where I am located, and the places where patent and trademark offices are that I care about, would all bring an end to clock-changing.