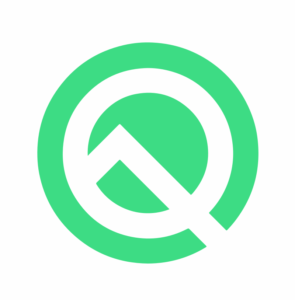 I was intrigued to learn that apparently Android 10 (wikipedia article) does not have a formal name. The way that this popped into my attention is that recently I changed phones. My previous phone, which was running Android Oreo, was a model for which the manufacturer had not provided any Android updates for a very long time. I got my most recent new phone just yesterday. It did what most consumer products seem to do nowadays, which is that it spent most of its first few hours of powered-up life downloading updates and updating itself. It had arrived from the store with a version of Android Pie (Android 9). It then worked its way through a number of updates of Android Pie, and then eventually it downloaded and installed Android 10.
I find, clicking around in Wikipedia and elsewhere, that Google insiders apparently refer to Android 10 as "quince tart".
Even though Android 10 does not officially have an external formal name, apparently it does have an official emblem, quoted above. I guess the emblem is meant to be evocative of the letter "Q".
Previous versions of Android had "dessert" names in alphabetical order:
Cupcake (Android 1.5)
Donut (Android 1.6)
Eclair (Android 2)
Froyo (Android 2.2)
Gingerbread (Android 2.3)
Honeycomb (Android 3)
Ice Cream Sandwich (Android 4)
Jelly Bean (Android 4.1)
KitKat (Android 4.4)
Lollipop (Android 5)
Marshmallow (Android 6)
Nougat (Android 7)
Oreo (Android 8)
Pie (Android 9)
One feature about Android 10 that I really like is that apps can be restricted by users to only having access to location data when they are actively being used in the foreground. When I learned this, I went through the privacy settings and set nearly all of my apps so that they are denied access to location data except when I have the app open in the foreground.