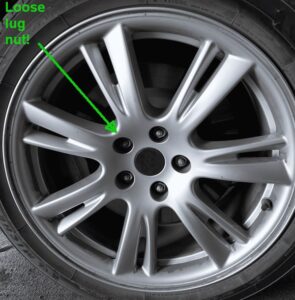 Executive summary: the other day I checked my lug nuts, assuming that they would all be nice and tight just like they always have been over the course of many years, any time that I have ever gone to the trouble of checking my lug nuts. And I was gobsmacked to find that one of my lug nuts was loose enough that it could be turned using one's fingers. Yes, as soon as I realized it was loose, I tightened it to the desired number of foot-pounds. But it sure was a good thing that I checked my lug nuts!
The main point of this blog article being, of course you should check your lug nuts.
Part of the background here is "all-weather tires". When I was a teenager driving my first car, an old used Volkswagen, there was no such thing as "all-weather tires". There were snow tires and there were regular tires and that was it.
There were the years I spent in Massachusetts attending law school and I did not have a car then. After that were the years I lived in Manhattan, and I did not have a car. I suppose it must have been during those years that tire companies devised what is (in my opinion) rather wishfully termed "all-weather tires". As far as I can see, the term "all-weather tires" is more or less an oxymoron. Maybe there are places where you could live where the weather more or less stays the same all year, in which case no matter what kind of tires you have, they can count as "all-weather tires". But if you live in a place where it is snowy in winter and it is not snowy in the summer, then I think it is completely unrealistic to imagine that any single type of tire could be well suited to all seasons.
Which brings me around to snow tires. When I was a teenager, the main thing about snow tires was that they were gnarly. It was the same general type of construction, the same general materials, but instead of a normal tread it was a very coarse and gnarly tread. Nowadays, the snow tires differ from the summer tires not only because they are gnarly, but they are also made of a different kind of rubber. The rubber in the snow tires has things mixed with it that are a bit gooey or a bit sticky, that are intended to help the tire grab the ice better.
Which brings me around to lug nuts. What happened with my most recent car is that I found it did not do as well in the snow as my previous car. I had sort of been in denial for some years, trying to avoid facing the fact that all-weather tires are not really "all-weather". And finally, this past winter, with my most recent car, I reached a point where I realized there was just no choice about it. I needed to suck it up and get snow tires.
What I did was order up a set of snow tires and wheels from Tirerack.com. The idea was that the vendor would mount and balance the tires on the wheels, and ship them to me. This worked out very well. This was some months ago, during winter.
Where I live in the mountains, it takes a long time for spring to arrive, and it means that the day for swapping summer tires for snow tires comes a lot later in the calendar year compared with that day for lower elevations and warmer latitudes. So it is only rather recently that I swapped my summer tires for my snow tires.
The important thing here is my sister Ruth (web site) had gone to the trouble to remind me that after driving around a bit on the summer tires, I should check to make sure my lug nuts are tight. Had she not reminded me of this, I must admit I might not have thought to check. And what happened is, sure enough, one of them was loose. It was so loose that I was able to turn it with my fingers.
I immediately torqued it to the desired 129 foot-pounds.
There is one more potentially interesting thing to see in the photograph above. I had not really paid attention until now, but this wheel has a number of lug nuts that does not match the number of spokes. With many car and truck wheels the number of lug nuts matches the number of spokes. Or one number is double the other number. But with this wheel, the number of spokes is seven (a prime number) and the number of lug nuts is five (also a prime number). The two numbers are not the same, and neither number is a multiple of the other number. I think this is quite out of the ordinary.
On your car, does the number of spokes match the number of lug nuts?
Have you ever, when doing a double-check of the tightness of your lug nuts, found one to be loose?
Please post a comment below.