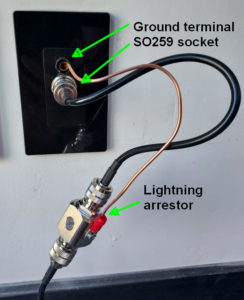 Of course it is smart to install whole-house surge protection as it relates to the electrical power wires in the house.  See blog article.  Having installed a nice Seimens FS140 whole-house surge protector, do you get to relax?  Of course not!  If a person is going to be thorough about this, one needs to think about the other wires and cables that enter the house from outside. 
An example of this is the 50-ohm low-loss coaxial cable that connects to the amateur radio antenna on the roof.  It enters the house through a carefully planned wall penetration and surfaces in an SO259 socket in a wall plate.  A ground wire is provided at a terminal.
The lightning arrestor (Amazon link) is rated for an insertion loss of only 0.1 dB from DC to 1 GHz.  It has a replaceable 90-volt gas tube element that hopefully shunts most of a lightning surge harmlessly to ground.
In my installation, I have a second lightning arrestor up on the roof, just below the balun of the antenna.  It is bonded to a six-gauge solid copper wire that goes to ground.  So there are two opportunities to divert the lightning surge from the ham radio antenna.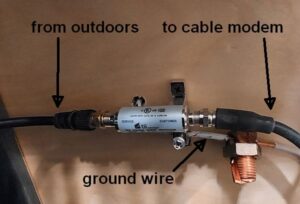 A second inbound cable to think about is the coaxial cable by which the local cable company provides internet service.  This is typically a 75-ohm RG6 cable.  The connectors are "F-type" connectors (Amazon link) and the protector (seen at right) claims a 75-ohm impedance from 5 MHz to 1500 MHz.
What kinds of surge protection and lightning arrestor devices do you use?  Please post a comment below.