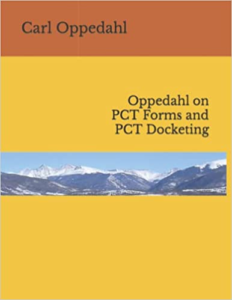 What I propose is four webinars.  The goal is to cover the PCT forms that PCT applicants and agents receive most often.  Each webinar will be 90 minutes in length.  The goal is to cover the forms listed and discussed in Oppedahl on PCT Forms and PCT Docketing.  A required companion purchase is that book.
Who should attend?   Note that these webinars ought to be of interest to any PCT user, anywhere in the world.  Nothing about these webinars is limited to the US.
Any attorney who supervises PCT paralegals and docket clerks should attend, since the attorney needs to know how to docket forms-related events so as to be able to competently supervise the PCT paralegal or docket clerk.
PCT paralegals are invited to attend.
Docket clerks are invited to attend.
As an introduction to the webinar, we will provide a brief discussion of the time line for the international phase of a PCT application, and the most important events during the international phase.
For each form, we will discuss:
the meaning and purpose of the form
inbound docketing significance

is there an existing docket that we get to clear because the form has arrived?
for some forms, we ought to have docketed to check for receipt of the form so that we would notice if it had not arrived

things to check closely on the received form

action items depending on what it says on the received form

do we need to set a new docket, and if so, what?
reporting to the client, and
next steps if any.
Webinar 1.  Forms Relating to the Receiving Office
Form PCT/RO/101 – the Request
Form PCT/RO/102 – Notification Concerning Payment of Prescribed Fees
Form PCT/RO/103 – Invitation to Correct the Purported International Application
Form PCT/RO/104 – Notification that the Purported International Application is not and Will not Be Treated as an International Application
Form PCT/RO/105 – Notification of the International Application Number and of the International Filing Date
Form PCT/RO/106 – Invitation to Correct Defects in the International Application
Form PCT/RO/107 – Invitation Relating to Certain Parts of the International Application that Are, or Appear to Be, Missing
Form PCT/RO/108 – Invitation to Request Rectification
Form PCT/RO/109 – Notification of Decision Concerning Request for Rectification
Form PCT/RO/110 – Invitation to Correct Priority Claim and/or Notification of Possibility to Request Restoration of the Right of Priority
Form PCT/RO/111 – Notification Relating to Priority Claim
Form PCT/RO/113 – Request for the Recording of a Change (PCT Rule 92bis.1)
Form PCT/RO/114 – Notification on Decision of Confirmation of Incorporation by Reference of Element or Part
Form PCT/RO/115 – Notification of Intention to Make Declaration that International Application Considered Withdrawn
Form PCT/RO/117 – Notification that International Application Considered to be Withdrawn
Form PCT/RO/132 – Communication in Cases for which no other form is Applicable
Webinar 2.  Forms Relating to the International Bureau
Form PCT/IB/301 – Notification of Receipt of Record Copy
Form PCT/IB/304 – Notification Concerning Submission, Obtention or Transmittal of Priority Document
Form PCT/IB/306 – Notification of the Recording of a Change
Form PCT/IB/307 – Notification of Withdrawal of International Application or Designations
Form PCT/IB/308 (First Notice) – First Notice Informing the Applicant of the Communication of the International Application (To Designated Offices Which do not Apply the 30 Month Time Limit Under Article 22(1))
Form PCT/IB/308 (Second and Supplementary Notice) — Second and Supplementary Notice Informing the Applicant of the Communication of the International Application (To Designated Offices Which Apply the 30 Month Time Limit Under Article 22(1))
Form PCT/IB/314 – Invitation to Request Rectification
Form PCT/IB/315 – Notification of Decision Concerning Request for Rectification
Form PCT/IB/316 – Invitation to correct priority claim and/or notification of possibility to request restoration of the right of priority
Form PCT/IB/345 – Communication in Cases for which No Other Form is Applicable
Form PCT/IB/346 – Notification Concerning the Filing of Amendments of the Claims
Form PCT/IB/368 – Notification of Transmittal of Demand to the Competent International Preliminary Examining Authority
Form PCT/IB/371 – Notification Relating to Declaration Made Under PCT Rule 4.17
Form PCT/IB/373 – International Preliminary Report on Patentability (Chapter I of the Patent Cooperation Treaty)
Webinar 3.  Forms Relating to the International Searching Authority
Form PCT/ISA/202 – Notification of Receipt of Search Copy
Form PCT/ISA/203 – Declaration of Non-Establishment of International Search Report
Form PCT/ISA/206 – Invitation to Pay Additional Fees and, Where Applicable, Protest Fee
Form PCT/ISA/210 – International Search Report
Form PCT/ISA/216 – Invitation to Request Rectification
Form PCT/ISA/217 – Notification of Decision Concerning Request for Rectification
Form PCT/ISA/220 – Notification of Transmittal of the International Search Report and the Written Opinion of the International Searching Authority, or the Declaration
Form PCT/ISA/225 – Invitation to Furnish Nucleotide and/or Amino Acid Sequence Listing and to Pay, Where Applicable, Late Furnishing Fee
Form PCT/ISA/237 – Written Opinion of the International Searching Authority
Webinar 4.  Forms Relating to the International Preliminary Examining Authority
Form PCT/IPEA/402 – Notification of Demand by Competent International Preliminary Examining Authority
Form PCT/IPEA/403 – Notification concerning Payment of the Preliminary Examination and Handling Fees
Form PCT/IPEA/405 – Invitation to Restrict or Pay Additional Fees, and, Where Applicable, Protest Fee
Form PCT/IPEA/408 – Written Opinion of the International Preliminary Examining Authority
Form PCT/IPEA/409 – International Preliminary Report on Patentability (Chapter II of the Patent Cooperation Treaty)
Form PCT/IPEA/411 – Invitation to Request Rectification
Form PCT/IPEA/412 – Notification of Decision Concerning Request for Rectification
Form PCT/IPEA/416 – Notification of Transmittal of International Preliminary Report on Patentability