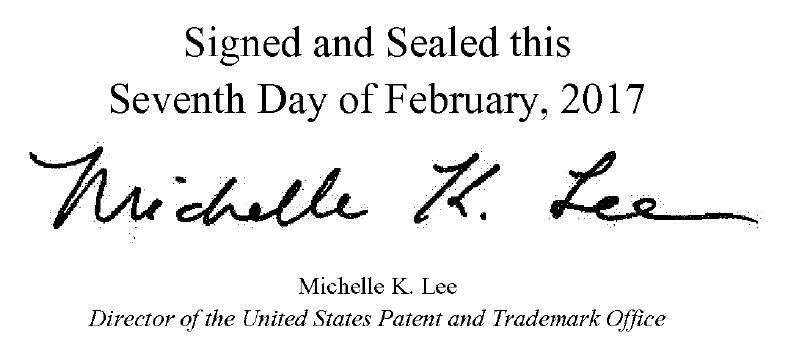 (Corrected thanks to David Boundy, as to which Director succeeded which.)
Normally the statutory requirement that a patent issued by the USPTO, or a trademark registration certificate issued by the USPTO, "shall be signed by the Director" (35 U.S. Code § 153 and 15 U.S. Code § 1057) is sort of boring.  But just now, the USPTO expressly refuses to say who is the Director of the USPTO.  What does this mean for patents and trademark registrations that have issued on recent Tuesdays? As reported on IPWatchdog, an interested member of the public (a Gary Shuster) recently filed a Freedom of Information Act request with the USPTO, asking "who is the Director of the USPTO?"  Normally such a request would be sort of uninteresting, because normally everybody knows who is the Director of the USPTO.  But in recent weeks this has been a bit of an open question.  So I guess it's not such a surprise that someone might file such a FOIA request.
Normally a federal agency is required to respond to the FOIA request according to a strict timetable.  Mr. Shuster's request had a due date for response of February 24, 2017.  One might have thought that the Office of the USPTO's General Counsel could drop a letter in the mail answering the question.  But instead, the Office of the General Counsel professed not to know the answer to this question, and invoked a rule that gives the Office an extra ten days to find out the answer and to provide it to Mr. Shuster.  You can see the letter here.  The new response date is March 10, 2017.
Mr. Shuster's question is not an idle question.  Among other things, there is the above-mentioned statutory requirement that an issued US patent or an issued trademark registration "be signed by the Director".
Back when one of the previous Directors ended his term as Director, handing the office to a succeeding Director, there was a slipup.  There was one particular Tuesday, just after the new Director was sworn in, that a day's worth of patents and trademark registrations got accidentally issued with the previous Director's signature on them.  Inevitably, someone got sued for infringing one of those patents, and they raised the question whether the patent was invalid since it was not "signed by the Director".
Did the court invalidate that patent?  Might the same thing happen if someone goes to court to assert one of the patents or trademark registrations issued between January 20 and the present day?
For now, the USPTO is continuing to issue patents and trademark registration certificates using Michelle Lee's signature.  You can see one of them reproduced above.
The first person to cite the District Court case in which the federal judge decided that invalidity question will win a spiffy digital multimeter.  Please post the answer as a comment below.