I live in aptly named Summit Country, Colorado at an altitude of about 9000 feet (about 2750 meters) above sea level.  (The photograph at the top of this blog page shows some of the mountains where I live, including two "fourteeners", Grays Peak, which I have climbed, and Torreys Peak.)  The point of this blog article is that every year, about twice a year, a swarm of several dozen Detroit test cars arrives in Summit County.  This spring's swarm of Detroit test cars has arrived, and this photograph shows one of them.
The point of the test cars is to test the engines of next year's not-yet-released new models of cars to see how the engine and its control computer functions under various conditions.  One of the conditions to be tested is the performance of the engine in thin air.  And what better place to find thin air than the mountains of Colorado!
The most recognizable things about these test cars are the Michigan "dealer" license plates, and the elaborate adhesive plastic randomly patterned skin that has been applied to the body of the cars.  The point of the skin is to make it difficult to appreciate the exact body contours.  In other words, we see an effort to conceal an industrial design.
The effort to conceal the industrial design extends to fake surfaces that are attached to parts of the body of the car before the skin is applied.  So the apparent shape of, say, the front grill area will differ from the actual shape that is underneath the skin and the fake surfaces.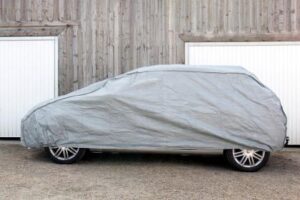 When the swarms of test cars arrive in Summit County, as they did last week, the drivers stay for a few days in local hotels.  In the evenings, the parking lots of the hotels are filled with many dozens of test cars that are shrouded in car covers.