Recently I went through the process of replacing most of the incandescent bulbs in my car with LEDs.  Why did I do this?  Mostly because it reduces the risk of someone tail-ending my car.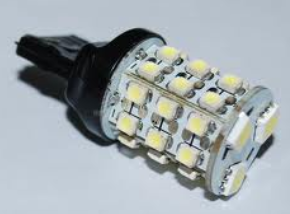 Many new cars these days, especially the more expensive cars, use LED bulbs almost exclusively instead of traditional incandescent bulbs.  But my car is just old enough, and just inexpensive enough, that all of the tail lights, brake lights, turn signal lights, and running lights are old-fashioned incandescent bulbs.
Why do we care about this?
The chief reason we care about this is that when you tap the brake pedal of your car, it closes an electrical switch that sends an electric current through your brake lights.  The tungsten filaments heat up, and about one-tenth of a second later, the brake lights light up.
If only you were to replace the incandescent bulbs with LED bulbs, the brake lights would light up instantly.
How far does the car behind you, speeding along at 70 miles per hour, travel in a tenth of a second?  Turns out, about ten feet.  So if you swap out your incandescent brake lights for LEDs, you might avoid some car accident where some inattentive driver behind you rear-ends your car.  You give the inattentive driver behind you an extra ten feet to react to the situation.
There is also a physiology-of-perception aspect to this.  It turns out that the human visual cortex is optimized to detect the first derivative (calculus again!) of the brightness of things.  A brake light that lights up instantly is more noticed by the visual cortex than a brake light that gradually changes from off to on over a tenth of a second, because the first derivative is higher in magnitude.  Look at a few car brake lights the next time you are driving around and you will see this for yourself.  You can immediately pick out the cars that have LED brake lights.  It's just much more noticeable than incandescent brake lights.
Okay so hopefully I have convinced you to swap out those bulbs.
If you are going to go to the trouble to do this, you might as well also swap out as many other bulbs as you can.  Turn signals, running lights, tail lights, all of them.  The way I did this was by studying the user manual for my car and writing down all of the bulb types.  And then I went to Amazon and ordered up LED equivalents. Note carefully that some bulbs are red and some are yellow.
Yes you could go to your local auto parts store to try to find these LED bulbs.  When I tried that, I found that no single store had all of the bulbs I needed, and even traveling around to three different local stores, I was not able to find them all.  Mail order is the way to go, I think.  Plus it was cheaper at Amazon.
If you tackle this project, there are many things to watch out for.
A first problem is that with cars nowadays it can be really difficult to get at the various bulbs.  In my car, a Subaru, to get at the front turn signal bulbs I had to remove a front tire, remove a plastic fender liner, and reach up through the car body to unhook a socket that cannot be seen but can only be felt because it is around a corner.
A second problem is that the replacement LED bulb sometimes will not fit into the space where the old incandescent bulb sat.  A millimeter too large in this direction or that direction, that kind of thing.  For one spot in my car I had to order three different LED bulbs, each of which seemed identical to the others in terms of the catalog description, until by chance I found one that would fit.
A third problem is that your turn signal blinker is (intentionally) very sensitive to the amount of current drawn by the (incandescent) bulbs.  This is so that if you have a burned-out bulb the blinker will blink extra fast and this will tip you off that you need to find a burned-out bulb and replace it.  To use LEDs, you will have to replace the blinker module with one that blinks at a constant rate regardless of the current drawn.  In my car this module was in a place under the dash that could not be seen, and could only be felt, because it was around a corner.
If you tackle this project, when the time comes to actually unplug an old incandescent bulb and plug in the new LED bulb, here are a couple of tips.
First, be sure to smear a bunch of silicone goop into each socket before you plug in the new bulb.  The goop is hydrophobic and so it keeps stray moisture out of the socket and reduces the risk of corrosion and a bad electrical connection.  It keeps the metal surfaces unoxidized.
Second, recall that a tungsten filament does not at all care whether the electrons run through the filament this way or that way.  So the sockets are designed in a way that does not force you to orient the bulb in any particular direction.  LEDs in contrast are very picky about which direction the current flows.  This means that when you plug in the new LED bulb, there is a 50% chance the bulb will not light up.  If you picked wrong, you will need to unplug the LED bulb and plug it in the other way.
There are other benefits to swapping out the incandescent bulbs for LED bulbs.  For one thing, probably for the life of the car you will never need to worry again about having to replace a bulb.  And you will reduce the chances of getting pulled over by the police due to a burned-out tail light or whatever.