(Update on March 1, 2020: since the date of this blog article, WIPO has updated its Participating Offices web page to say that INPI's participation that will commence on March 2, 2020 is only as to national patent applications, not also as to PCT applications.)
I am fascinated to see the following information on the DAS page of the WIPO web site: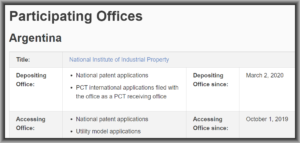 What this says is that starting on March 2, 2020 (a mere five months from now), the RO/AR will be a Depositing Office for the WIPO DAS system. What is interesting about this is that for RO/AR to be a Depositing Office, the RO/AR would have to exist by March 2, 2020. And for RO/AR to exist, Argentina would have to join the PCT by March 2, 2020. So I guess the DAS people at WIPO know something that I don't about Argentina's plans to join the PCT.