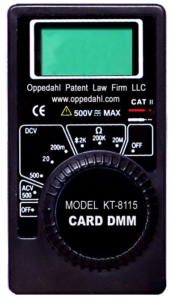 (Update: See a followup message here about a step that you might take to try to get the listservs working for you again.)
(See also I turned on munging.)
(Updated to describe shipment of digital multimeters.)
Readers may recall my recent blog article about woes with outbound emails from our listserv server.
Alert listserv member Diane L. Gardner of Mastermind IP Law P.C. posted this comment to that blog article:
From my IT provider:
They do not have a spf record.
And her IT provider was absolutely right. I had not attended to setting up an SPF record on our new dedicated server. I ought to have done that sooner. Prompted by her posting, we added the SPF record. Here is the record:
v=spf1 +mx +a +ip4:162.213.248.195 ~all
We have sent two of our digital multimeters to Diane — one for her and one for her IT provider. Thanks to both of you!
We also corrected a PTR (reverse DNS lookup) record. The PTR record is "195.248.213.162.in-addr.arpa." pointing to "server1.oppedahl-lists.com.".
There's a chance these two changes might help a little.
We already had and still have a DKIM record. The DKIM record is "server1.oppedahl-lists.com." pointing to "v=DKIM1; k=rsa; p=[public key]".
Thanks again to the nice commenter.