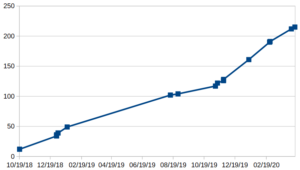 It looks as though it is possible to figure out how many utility patent applications have been filed in Patentcenter thus far during alpha testing and beta testing.
The answer looks like about 260 or so. The testing has been going on for around 520 days. So on average it appears there has been a new utility patent application filed about every other day in Patentcenter thus far.
The way that you can figure this out is by paying attention to the block of application numbers within which the application number falls. Each application filing system draws from a block of 1000 application numbers. So for example some block of one thousand is given to EFS-Web for utility patent applications, another block is given to Patentcenter for utility patent applications, and still another block is given to the people who handle paper-filed utility patent applications. When a block of 1000 gets used up in a particular system, then the system gets a new block of 1000.
When Patentcenter started, back in about September of 2018, the block given to it for utility applications was the block beginning 15/929,001. By now in April of 2020, a recently filed utility case received 15/929,258. This tells us that around 260 utility cases have by now been filed in Patentcenter. What appears above is a graph showing the filing trend. It looks like Patentcenter has not yet needed a second block of 1000.
My firm has filed about eight percent of those applications.