Patentcenter is still nominally in beta test, but USPTO seems to be plowing ahead with its plans to force all applicants to e-file patent applications in Microsoft Word format (the Microsoft Word dialect of DOCX) and has long ago stopped any development or feature enhancements for EFS-Web or PAIR. USPTO has said it will shut down EFS-Web and PAIR and users will have no choice but to use Patentcenter to do the things that have in the past been done through EFS-Web and PAIR. So what is the progress at the USPTO with fixing the known bugs in Patentcenter?
There is a Patentcenter beta tester user community, tied together by the Patentcenter listserv. (Interested persons should join that listserv.) A committee from the listserv met last autumn with some USPTO developers and it was hoped that this might lead to some progress with fixing some of the bugs in Patentcenter. It was also hoped that USPTO would listen to users and implement some of the enhancements and features requested by users.
About four months ago, it was explored that the committee might meet again with USPTO people to review the bug list and to see what progress USPTO had been made with the bug list. Some time has passed and the meeting had not yet happened. So to save time, I have prepared this report that summarizes my best assessment of USPTO's progress with the bug list. Maybe some time soon the meeting will be able to take place and there will be an opportunity for further dialog. In the mean time, this blog article reviews USPTO's progress in this area. (Preview: things look grim.)
In a subsequent blog article I will review USPTO's progress with the list of requested feature enhancements for Patentcenter. (Preview: things look grim in that area as well.)
The executive summary for USPTO's progress on Patentcenter bug fixes is as follows.
Out of 58 serious bugs reported to USPTO in Patentcenter, the approximate status is:
six have been fixed,
six have a "UPD" status, meaning that the USPTO says it cannot reproduce the bug,
three have a "WAI" status, meaning that the USPTO does not consider the bug to be a bug even though users consider the bug to be a bug, and
43 remain outstanding.
As for the six bugs that got fixed, the average delay between the bug report and the USPTO fix was 195 days, or just over half a year per bug fix.
The average pendency for an outstanding bug is 342 days.
The detailed results appear in the table below.
It seems to me that the average bug pendency of 342 days does not really give a good sense of the pendency. A visual presentation of the pendency in this bar graph gives a better sense of the bug pendency, I think: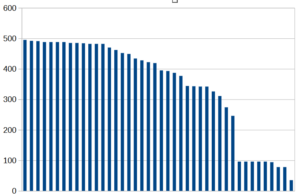 What the bar graph helps to show is that really a lot of the older bugs have been pending for really a very long time. Lots of bugs have been outstanding for almost 500 days.
At half a year per bug fix, the bug list would be cleared in about the year 2042. (That figure assumes of course that no new bugs would get identified during that 21-year period.)
Trouble
Ticket
Number
Date
Reported
To USPTO
Has It
Been
Fixed?
Date It
Got Fixed
How Long
It Took
To Get
Fixed
How Long
It Has Been
Outstanding
CP1
04/30/20
yes
05/12/20
12
CP2
04/30/20
no
488
CP3
04/23/20
no
495
CP4
04/30/20
no
488
CP5
04/30/20
no
488
CP6
04/27/20
no
491
CP7
04/26/20
no
492
CP8
04/23/20
yes
05/12/20
19
CP9
04/23/20
yes
07/01/20
69
CP10
12/28/20
no
246
CP11
04/30/20
UPD
CP12
04/30/20
no
488
CP13
05/03/20
no
485
CP14
05/03/20
no
485
CP15
05/03/20
UPD
CP16
05/04/20
no
484
CP17
05/04/20
UPD
CP18
05/06/20
no
482
CP19
05/06/20
no
482
CP20
05/06/20
WAI
CP21
05/06/20
no
482
CP22
05/09/20
yes
07/01/20
53
CP23
05/11/20
yes
09/23/20
135
CP24
05/18/20
no
470
CP25
05/26/20
no
462
CP26
06/05/20
no
452
CP27
06/08/20
UPD
CP28
01/31/19
WAI
CP29
01/31/19
yes
07/01/21
882
CP30
06/08/20
no
449
CP31
06/23/20
no
434
CP32
06/29/20
no
428
CP33
07/05/20
no
422
CP34
07/08/20
no
419
CP35
08/01/20
no
395
CP36
08/03/20
no
393
CP37
08/09/20
no
387
CP38
08/09/20
WAI
CP39
08/19/20
no
377
CP40
08/22/20
UPD
CP41
08/22/20
UPD
CP42
09/21/20
no
344
CP43
09/22/20
no
343
CP44
09/23/20
no
342
CP45
09/23/20
no
342
CP46
10/09/20
no
326
CP47
10/24/20
no
311
CP48
11/30/20
no
274
CP49
05/27/21
no
96
CP50
05/27/21
no
96
CP51
05/27/21
no
96
CP52
05/27/21
no
96
CP53
05/27/21
no
96
CP54
05/29/21
no
94
CP55
06/14/21
no
78
CP56
06/14/21
no
78
CP57
07/27/21
no
35
CP58
08/31/21
no
0