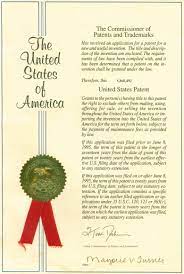 35 USC § 153 says:
Patents shall be issued in the name of the United States of America, under the seal of the Patent and Trademark Office, and shall be signed by the Director or have his signature placed thereon and shall be recorded in the Patent and Trademark Office.
For as long as I have been in practice, such patents have arrived in the postal mail approximately every Friday, following the Tuesday of issuance. We call them "ribbon copies" because on the cover, they have a gold seal and they used to have a representation of a red ribbon. I review the patents each week, often with some sense of satisfaction at having played some small part in the process of obtaining the patent from the USPTO on behalf of the client. We then ship each patent to the client, with a cover letter solemnly advising the client that the patent should be kept safely "among the client's important papers".
It seems this will come to an end, according to a new article has been posted to the blog of the Director of the USPTO. The article, entitled Modernizing how we issue patents and trademark registrations, is dated December 10, 2021. In the blog article, the Director describes the Office's plans to discontinue issuing physical patents. Instead, the Office has in mind that inventors and corporations should be content to download a PDF file from the web site of the USPTO. The Director helpfully mentions, however, that the USPTO has in mind that in the unlikely event that anybody actually does want to have a physical patent, it will still be possible to get one, by paying an extra $25 to the USPTO.
Conspicuously absent from the blog article is any mention of the notion of reducing the amount of the Issue Fee by $25 to make up for the fact of the USPTO being able to save the cost of preparing and mailing the physical patent.
So as far as I can see, what is proposed is that the cereal box will get smaller, but its price will stay the same. Call me old-fashioned, but when I was a child growing up, I always considered this sort of thing to be a sneaky way for the manufacturer to accomplish what amounted to a price increase.