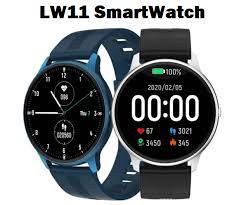 A smart watch is a watch that connects by bluetooth to your smart phone, and does lots of smart things. It was not so long ago that your usual smart watch cost many hundreds of dollars. Recently I saw that there are lots and lots of relatively inexpensive smart watches on the market. I decided to give one of them a try. I was astonished to find how many features a person can get, and how clever the watch can be, for a quite modest purchase price.
The watch that I tried out is the fetchingly named LW11 and it cost $45 on Amazon (direct link). Here are some of the features.
Blood pressure. It measures blood pressure using a technology called pulse transit time (Wikipedia article), which is how long it takes a pressure wave created by a heartbeat to travel between two points along an artery. It is likely to be less accurate than the old-fashioned cuff on your arm. But still it could show general trends and might tip you off to a particular time when the blood pressure is getting to be much higher or lower than you expected it to be. I am frankly astonished that a $45 thing that weighs only a couple of ounces and is inside a wristwatch could accomplish even this much.
Blood oxygen level. It measures dissolved blood oxygen. It does this in the same way as your familiar clothespin-on-your-finger oximeter, sending two different wavelengths of excitation light into your skin and measuring the relative amounts of light passing back out from your skin. In these days of Covid, where the general list of symptoms of Covid is identical to a symptom list which just a couple of years earlier would have been a "who cares" case of mild flu or a cold or a headache, and where the only objectively measurable thing (other than a lab test) that has a chance of maybe distinguishing Covid from "who cares" is the blood oxygen level, it seems to me that this feature alone would be a good reason to put such a smart watch on your wrist.
Heart rate. It takes your pulse. The sensors that carry out the two previously mentioned measurements make it easy to count beats of your heart.
Step count. Of course the watch has three axes of accelerometer and thus can count steps.
Sleep, including deep sleep. I guess the sensors that measure the four previously mentioned measurements are the sensors that make it easy for the watch to make a pretty good guess as to when you are asleep. And on top of that, a pretty good guess as to how much of your sleep was deep sleep.
Because it connects by bluetooth to your phone, it can then interact a little bit with your phone. If you configure it to do so, it will vibrate and show something on the screen to let you know about the arrival of:
an incoming phone call
an SMS (text) message
an email message
a Wechat message
a QQ message
a Facebook message
a Twitter message
a Whatsapp message
a Linkedin message
an Instagram message
a Messenger message
a Line message
a Kakao message
a Viber message
a Skype message
a Telegram message
I wish they would make it possible to annunciate a Signal message. But no. I wish they would make it possible to annunciate an incoming call on a VOIP app. But no.
You can set alarms, for example to wake you up every day at the same time.
You can pick any of about fifty-six watch dials from the app, to load into the watch. So you can have an analog watch display (with hands), or a display with digits, or any of a number of very busy displays that I think would drive me crazy but I guess some users might really like. You can pick a photograph or image from your phone and make it into a background for the watch face. The watch itself also has three native watch dials to choose from even if you are not uploading a watch dial from the app.
The app can keep a log of past daily step counts and past sleep measurements, and can graph the logged data. You can set a daily step count goal and it helps you keep track of the progress toward the goal.
You can program the watch to make periodic measurements of blood pressure and blood oxygen and heart rate, and the app can log and graph the measurements. I have my watch configured to do those measurements 24 hours a day, 7 days a week.
If you were using the phone as a music player, then the watch could be used to turn the volume up and down, and move forward and back a track.
If you were to prop up the phone someplace to be a camera, the watch can be a remote control to trigger the shutter of the camera.
There is a button on the watch (a virtual button on the touch screen) that can make the phone chirp to help you find the phone if you cannot figure out where the phone is. And there is a button in the phone app that can make the watch vibrate to help you find the watch, if you cannot figure out where the watch is. The watch has a stopwatch feature and a countdown timer.
The watch face is about 33 mm (about 1.3 inches) in diameter. It weighs about 60 grams (about 2.1 ounces). The battery life for the watch is said to be at least seven days between chargings, and maybe a couple of weeks. This would of course be a function of how often you do things that make the watch display light up, and how bright you set the display to be, and how often you ask it to measure things like blood pressure. I found that I needed to set the display to its highest brightness to be able to see things in outdoor conditions. The way I configured my watch, it needed to get charged up every five days or so. This compares with some of the early fitness bands that had battery life so short that they had to be charged up every night.
The watch comes with an ordinary silicone band. The case works with any ordinary 22-millimeter watch band, so you could swap out the band for some other type of band if desired.
One of the things I like the best about the app is, it does not force you to create an account! All of the previous health-related devices that I ever played with were set up in a way that refused to let you do even the simplest thing until after you had "created an account", which of course included revealing your email address and other personal information.
Oh, and the watch is IP68 (Wikipedia article) water resistant. This means you could get away with maybe wearing the watch in the shower, or getting it wet in the rain, but you would not be able to swim with the watch on. If you were to drop the watch into a sink or a shallow puddle it would probably survive the event.
And you get all of these features for just $45. This means if the watch gets lost you have only lost $45. If you drop it and break it, you only have to spend $45 to replace it.
It is important to keep in mind that there are things that some smart watches do that this one does not. Some smart watches let you conduct actual two-way telephone calls through the watch; this watch does not. Some smart watches let you initiate outbound messages or reply to messages; this watch does not. Some smart watches have a GPS tracker in them and they can log where you went on your jog; this watch does not.