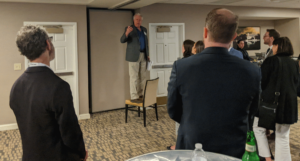 The tenth e-Trademarks listserv reception took place as scheduled on Tuesday, May 3 in Washington, DC. Listserv member Matt Curran has shared a couple of photographs that he took during the reception.
What you see here is me addressing the group briefly about half way through the event. I gave a brief lecture on two of the articles of the Paris Convention. I also thanked two nice people from WIPO (from the Madrid Protocol part of WIPO) who were kind enough to join us.
About seventy people attended all told. At any given moment the number of people present was as many as about forty.
This reception followed a two-year hiatus due to Covid. It was really a treat to get to see people in person again after three years!