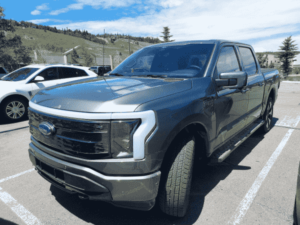 Never until today had I seen a pickup truck that lacked a grille. Indeed over the years I had come to realize that motor vehicles differ from one to the next in the "gapingness" of the openings in the grille. Motor vehicles that are more, shall we say, manly, tend to have grilles with larger and more gaping openings. And here is an otherwise presumably extremely manly Ford pickup truck, but with … wait for it … no grille at all. There is only a sort of decorative panel in its place. Who can guess where I am going with this? What vehicle is this? Yes, perhaps some readers already know where I am going with this. What you see here is a vehicle that I had never before seen in person. This, dear reader, is the elusive Ford F-150 Lightning. This is the electric vehicle pickup truck made by Ford. This is the vehicle which, depending on the options package that you might have selected, has extremely manly electrical receptacles that can power things like an electric arc welder. This is the vehicle which, if connected to a transfer switch on your house, can power your house for anywhere from one to three days during a loss of power from the electrical grid. This is the vehicle which, if you recall, was piloted by our current sitting president (in a large parking lot, fortunately) accelerating from zero to 60 in something like 2.5 seconds. Which, by the way, an ordinary gasoline-powered pickup truck would not be able to do because it does not have that much low-end torque.
This is the Ford vehicle which, if you put down a deposit and place an order, might be delivered to you in two years. Yes, the Ford F-150 Lightning is sold out, and it is so sold out that there is by now a two-year waiting list. But somebody somewhere managed to be among the first to buy one. And they parked it in this parking lot, and I encountered it.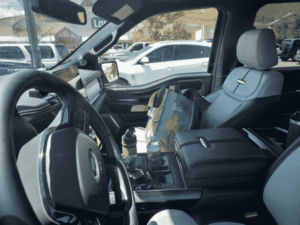 I feel I have no choice but to share with my loyal readers that what I spied in the shotgun seat was a shopping bag from Whole Foods. My chief reason for mentioning this is that probably the reason why the owner of truck was at the Whole Foods store is that it has an EV charger that is free to use. Yes, it is like going to a gas station and pumping some gas and having the manager of the gas station walk out to where you are pumping the gas, and explain that today you will not have to pay for the gasoline.
Indeed if I click on an app to look for EV charging stations, I can find no fewer than four free EV charging stations within a five-minute drive from the place where this F-150 pickup truck was parked. One of which was at the Whole Foods grocery store. Four places that are quite nearby and that are very much like going to a gas station and being told that today the gasoline is free.