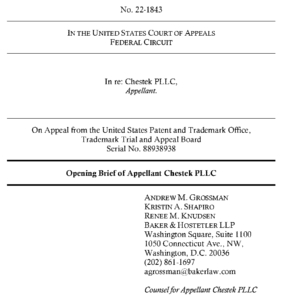 (update:  an amicus brief has been filed.)
(update:  the appellee's brief has been filed.)
(update:  the appellant's reply brief has been filed.)
Many readers are aware of the keen obsession that the Trademark Office at the USPTO has in knowing where trademark applicants sleep at night.  Readers who are familiar with the statutes and rules and accumulated court cases relating to the right and wrong ways to do "rulemaking" may also have gone to the trouble of looking at the steps that the Trademark Office followed in promulgating its rules that, since a couple of years ago, have required applicants to reveal to the Trademark Office where they sleep at night.  But perhaps not so many readers are aware that right now there is pending in the Court of Appeals for the Federal Circuit a case that asks the Court to consider striking down those rules.
There is now an important development in that Court of Appeals case. 
The important development is that the appellant's brief has been filed.  The front page of the brief is quoted above right.
You can view and print the appellant's brief here.  It is fascinating reading.
This would be a perfect time for amici to file amicus briefs.
On a quick look on the web site of the Federal Circuit, it looks like the appellee probably has 40 days to hand in its brief.  That might mean October 19.