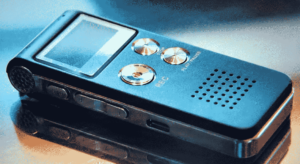 I enjoyed immensely my first viewing of Glass Onion.  I then enjoyed immensely my second viewing of Glass Onion.  In this blog article I will reveal how you can get an identical copy of the digital voice recorder (seen at right) that appears on the screen in this movie at 42:14. 
Of course I don't want to spoil the plot twists in this delightfully crafted whodunnit.  So I won't tell you which character it was that cleverly tossed this voice recorder, unnoticed, into a second character's open handbag.  And I won't tell you what that second character said later, to a third character, that got recorded by the digital recorder.   Nor will I tell you how and when that first character once again got the voice recorder back in hand.  And I won't tell you what the reaction was of Benoit Blanc, world-famous detective played by Daniel Craig, upon hearing the things that the second character said, when the first character later pressed the "play" button on this digital voice recorder and played back the words of that second character.  No, out of respect for this delightful film I will not tell you any of those things.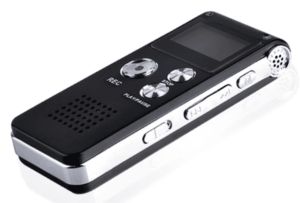 What I will tell you is that I have had this exact digital voice recorder with me since 2017.  I have used this digital voice recorder dozens of times over the past five years, typically during long drives in a car, to dictate chapters of books for later transcription.
Normally if you want to get your own copy of a very important movie prop, you have spend a lot of money.  But I am delighted to reveal to you that you can get this exact digital voice recorder for $14 by clicking here.  Or you can get it for $26 through Amazon Prime by clicking here.