USPTO made a wrong decision just now.  Monday morning is absolutely the wrong time to take down Patentcenter for maintenance. 
Yes, just now this big red "502" message is what I get on a Monday morning (10:45 AM Eastern Time) when I try to use Patentcenter.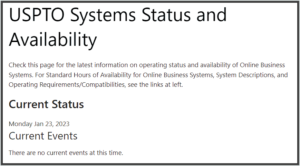 Of course what you might wonder is whether the USPTO's System Status and Availability web page might shed some light on why Patentcenter is down for maintenance right now.  Quoted at right is the entirety of what the SSAA page says right now.