Hello folks. The firm of Schwegman, Lundberg & Woessner and the SLW Institute hosted the 2022 Virtual PCT Training Seminar. Yours truly was the presenter. This was a series of fifteen webinars over a series of six weeks, running from February 8 to March 18, 2022. The webinars were recorded and are now available for binge watching. Here is what some of the live attendees said about these webinars:
I have been doing PCT applications for many years. Having said that, I learned a great deal in the webinars. Carl is a great presenter and obviously knows this subject very well. I would recommend this set of webinars for anyone who deals with PCT patent applications.
The seminar was very informative and I liked the speaker.
It was a good refresher course for someone like me who has surface knowledge of PCT filings. I also enjoyed reading the chats and learned a few things from them. It was the best 15 hours well spent.
This webinar series was fantastic. I would highly recommend it to anyone who has any involvement with PCT applications, regardless of level of experience.
Carl is very good!
The sessions were so informative, and Carl really is the master.
Carl was an amazing teacher. Always great to hear from him.
This was an excellent series of lectures on the PCT system.
Carl is very knowledgeable and hilarious. He gave the lessons about PCT, how to be responsible at work, how to face with problems and how to solve them, a respectful gentlemen for kindness as well.
I've been practicing patent law for about 35 years. This was the most useful CLE program I've ever attended.
The presentation was very clear and helpful. I appreciated that it was understandable to a neophyte.
Thanks so much for this very informative seminar series.
Carl did a wonderful job, as always! This was very valuable material.
What could be a better use of time than binge-watching 14 hours of training on the Patent Cooperation Treaty? Here is your opportunity.
You can print out the fifteen presentation slide handouts at the links below, for free. This yields 367 pages containing 725 slides.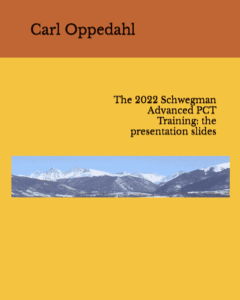 New! We have also collected the handouts into a convenient paperback bound volume (see cover at right), and we are making it available for purchase at the printing cost. This book is 374 pages, containing all fifteen slide handouts which provide all 725 slides contained in the handouts. At $9.95 this probably costs less than the toner and paper that you would use in your printer to print out the fifteen handouts. Penaya Publishing, ISBN 979-8438251996. (Note that the interior pages of this book are in black and white while the slides as appearing in the links below include color.)
| | | | |
| --- | --- | --- | --- |
| Description | video | slides | duration |
| Session 1 – What is PCT? Why we care? Paris path versus PCT | video | slides | 67:17 |
| Session 2 – Planning for PCT and Paris, Article 4 of Paris, SAOSIT, Making use of WIPO DAS | video | slides | 50:18 |
| Session 3 – Selecting a Receiving Office, RO/US versus RO/IB | video | slides | 56:56 |
| Session 4 – Selecting an International Searching Authority | video | slides | 54:43 |
| Session 5 – Preparing a PCT Request – Making use of ePCT and getting benefit of validations, avoiding malpractice on priority claim mistakes | video | slides | 53:59 |
| Session 6 – Using workplace collaboration features of ePCT as you lead up to the PCT Filing, shared address book, external signatures, document reviews | video | slides | 59:06 |
| Session 7 – E-Filing of the PCT Application and docketing of PCT thereafter | video | slides | 52:15 |
| Session 8 – What to do when the International Search Report and Written Opinion arrive, do you file a Demand? | video | slides | 55:23 |
| Session 9 – Using ePCT for "actions" such as 92bis requests, communicating with ISAs | video | slides | 52:32 |
| Session 10 – Mechanics of filing a Demand, steps before and after filing the Demand | video | slides | 55:36 |
| Session 11 – Understanding and using the five kinds of PCT declarations | video | slides | 58:47 |
| Session 12 – National-phase entry generally – tips for some Offices | video | slides | 59:22 |
| Session 13 – Choosing between US national-phase entry and bypass continuation | video | slides | 37:53 |
| Session 14 – Best practices and procedure for US national-phase entry | video | slides | 59:40 |
| Session 15 – Making use of PCT-PPH, and comparison with Track I and AE | video | slides | 59:21 |