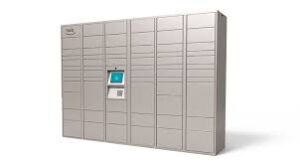 I still vividly recall the first time a hotel annoyed me by charging a package fee. It was a Hyatt hotel in downtown Chicago; I was attending a professional meeting about twenty years ago. I had arranged for some courier package to be sent to me, and I had to pay a $15 ransom to get the package.
In the many years that have gone by since then, I have by now paid many hundreds of dollars in package fees to hotels. And by now I have gotten enough of a clue about this that when I am negotiating with a hotel to rent a meeting room to teach a PCT class, one of the conditions I put into the agreement with the hotel is that they will receive some number of courier packages for me without charging me to receive the packages.
Which brings me to a delightful development. When I was in Crystal City, Virginia a couple of weeks ago to join others in teaching a PCT class, I stayed at a Doubletree hotel, and I was interested to see a bank of Amazon lockers in the hotel lobby. I had had an Amazon package shipped to me at this hotel! I received my Amazon package by standing in line at the front desk. Had I realized the lockers were there, I could have had my Amazon package shipped directly to one of the lockers and I could have picked up the package the instant it arrived.
The lockers were not the usual bright yellow-orange Amazon color. They were an understated gray color, consistent with the hotel lobby decor.
Doubletree is owned by Hilton, and what I learned is that more than two years ago, Hilton struck a deal with Amazon to start installing Amazon lockers in Hilton hotels. So for example when I was in Crystal City a couple of weeks ago to teach this PCT class, not only did this Doubletree hotel have Amazon lockers, but the Embassy Suites (also a Hilton property) just around the corner also had Amazon lockers.
The bank of lockers takes up some floor space in the lobby and it uses a bit of electricity, and Amazon does not pay any rent to the hotel. What's in it for Hilton? I'd guess they like not having to log packages in and out of a storeroom, and not having to tie up front-desk people to wrangle packages. Maybe they figure some potential guest might actually seek out a Hilton property if the guest knows they are going to need to get an Amazon package delivered during their stay. And even if most of the packages that pass through the lockers are being picked up by people who are not hotel guests, maybe they figure those people nonetheless represent possible future hotel guests and they might stop to buy coffee or something.