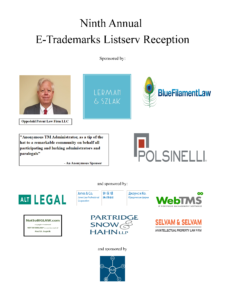 The E-Trademarks reception is now in its ninth year of tradition, taking place as usual during INTA time, this year in Boston.
As in many past years, generous donors help to sponsor the reception, which you can read about here.  You can see the twelve sponsors in the poster at right.  Two posters like this will be on easels at the event.
As you can see from the prominent place on the poster, five of the sponsors were particularly generous.  But what I find extremely … I guess heart-warming … is that one of the particularly generous sponsors gave on condition that the sponsor's name not be disclosed.
The philosopher Maimonides is among many who describe the giving of an anonymous gift as one of the highest levels of giving.  Our anonymous sponsor said to me:
OK.  Look for my personal check … on condition you will not mention my name but give credit for it only to:
Anonymous TM Administrator, as a tip of the hat to a remarkable community on behalf all participating and lurking administrators and paralegals.
So, maybe you would like to enjoy a drink with this remarkable community.  If so, drop by next Tuesday in Boston.  Maybe unbeknownst to you, you will click a wine glass or share a smile with this anonymous trademark administrator.