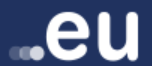 Alert blog reader Greg McLemore tipped me off to yet another sort of IP/tech aspect of Brexit that I had not thought about — Internet domain names that end in ".EU".
It turns out that the registry in charge of dot EU Internet domain names had some months ago set a policy that if and when the UK ceases to be part of European Union, this would start a two-month time period at the end of which any domain registrant whose contact address is not in the EU (a code phrase for any registrant whose contact address is in the UK) would lose the domain name.
Presumably most domain name owners in this situation would do whatever is needed to adopt some sort of contact address that is within the (post-Brexit) European Union.
The most recent development, which you can see here, is that these plans regarding dot EU domain names will be put on hold for the time being.
If I were a UK-domiciled registration of a dot EU domain name, I would be watching this very closely.