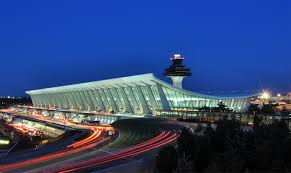 There's a change in airport security at Dulles that makes it ever so slightly faster and easier to get through airport security.  I've searched around in Google News and have not found anywhere that anyone has talked about this change.
We are all accustomed to the drill for getting through airport security.  Wait in line until you get to the TSA person who checks IDs.  Place your boarding pass on the bar code reader.  Wait for the bar code reader to display your name.  Hand your ID to the TSA person, who does four things:
checks that the name on the ID matches the name displayed on the barcode reader;
looks at the photo on the ID to see if it looks like you;
waves the ID under an ultraviolet light to see if anything glows;  and
hands your ID back to you.
I usually use a boarding pass on my phone, so this means I have to put my carryon bag on the floor, pull my phone out of my pocket, pull my ID out of a different pocket, fumble with the phone to power it up (all the while fearing that I might have let the battery run down), click around to open the boarding pass, maneuver the phone so that the display is in the correct place on the face of the bar code reader, and with my third hand, pass my ID to the TSA person.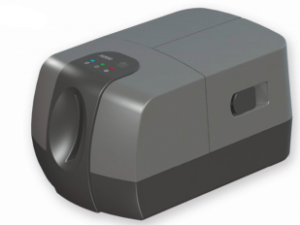 But not any more, not at Dulles!  At Dulles airport, the TSA person nowadays does not want or need the passenger's boarding pass.  The TSA person merely receives the passenger's ID, slips it into a reader, hands the ID back to the passenger, watches a computer screen for a green light, and waves the passenger on through security.
Importantly, there is no need for any boarding pass.
How does this work?  The way this works is that the reader (a model M500 card reader by E-Seek, shown at right) reads all of the visible information on both sides of your ID, as well as hidden security features such as ultraviolet and infrared markings.  The information gets passed to a MorphoTrust system which looks up your name and birthdate in a database of passengers who have checked in for flights at the airport.  The system flashes a green light on the computer screen, which means that (a) the system did indeed find that you have a boarding pass, and (b) the system did not see anything suggesting that the ID had been altered or counterfeited.
In two recent departures from Dulles, I found that this process from start to finish only took about ten seconds.  This is faster than the legacy process (scanning the boarding pass, proffering an ID, etc.) which I imagine is TSA's chief reason for trying this system.  But for the passenger this process is not only faster but also easier.  I did not have to juggle three things — a carryon bag and a cell phone and an ID.   Instead I only had to proffer the ID, get the ID back within a couple of seconds, and proceed through security.
I do think it is quite odd that (so far as I can see) nobody has written about this in any newspaper or web site.  I have found only one mention of this — at The Points Guy.    The Points Guy says it started at Dulles (which is where I encountered it) and says that the next airports to receive this system will be Atlanta (ATL), Austin (AUS), Boston (BOS), Chicago (ORD), and National Airport (DCA).
If you're flying out of Dulles, you get to leave your boarding pass in your pocket.  Just scan your ID and you're done.
Have you encountered this new ID-checking process?  At which airport?  Please post a comment below.