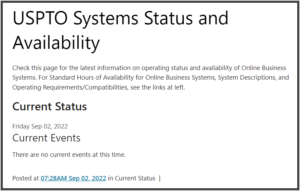 If you regularly make use of TEAS or PAIR or Patentcenter or EFS-Web, you probably find yourself checking the USPTO Systems Status and Availability web page (screen shot at right) from time to time.
Wouldn't it be nice if somehow you could be notified automatically when that web page changes?  Well, now you can be notified automatically, if you choose to participate in a beta test of my new change-detection system. 
This new system uses changedetection.io, described thusly:
The best and simplest self-hosted free open source website change detection tracking, monitoring and notification service.  An alternative to Visualping, Watchtower etc.   Designed for simplicity – the main goal is to simply monitor which websites had a text change, for free.
If you would like to participate in the beta test of this system, drop me an email.  I can then add your email address to the list of people receiving notifications.