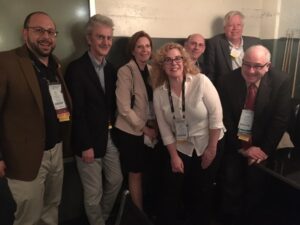 Meet the Bloggers XIV was very successful.
From left to right, blogger/sponsors Erik Pelton, John Welch, Pamela Chestek, Tara Aaron, Marty Schwimmer, Carl Oppedahl, Ron Coleman. (Not shown: blogger and sponsor Marc Randazza.)
To make sure that you hear about the details for MTB-XV in Boston in 2019, be sure to subscribe to all or nearly all of the blogs.