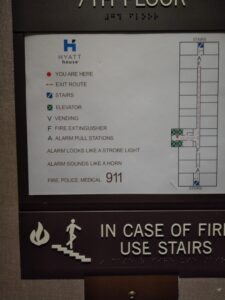 Poor quality writing usually only has modest consequences. In a bookstore, the consequence might be that the customer who considered buying a book puts it down and does not purchase it. In a teaching document, the consequence might be that the document does not explain things as well as might be desired, and the reader might have to read it twice to get its meaning.
Consider, though, the possible consequence of poor quality writing in an emergency sign in a public building. Here, the writer apparently had a goal of letting deaf persons know how to know that there is an alarm:
ALARM LOOKS LIKE A STROBE LIGHT.
The insertion of "looks like" needlessly adds a qualification that makes the reader wonder something like this:
Well, I wonder why they said this? I guess it is not actually a strobe light but in some way it merely "looks like" a strobe light. Do they mean that it is shaped like a strobe light or is encased in a clear plastic lens like a strobe light but is otherwise in some important way different from an actual strobe light?
I respectfully suggest that the writer could have saved everyone a lot of trouble by coming out and saying it rather than beating around the bush:
ALARM IS A STROBE LIGHT.
Better yet, the writer could have skipped completely any assumption that the reader already was familiar with strobe lights or, more particularly, that the reader knows what a strobe light "looks like". The writer probably really should simply have said
IF YOU SEE A VERY BRIGHT FLASHING LIGHT, DO X.
We can also look at the sentence:
ALARM SOUNDS LIKE A HORN.
Once again I suggest the reader is unnecessarily forced to second-guess along these lines:
Okay, so I am hearing a horn. It cannot be the alarm, because they said the alarm merely "sounds like" a horn rather than saying that the alarm "is" a horn. So I wonder what is being communicated by this horn?
Better would have been to say:
ALARM IS A HORN.
or better yet:
IF YOU HEAR A VERY LOUD HORN, DO X.
How would you have worded such a sign? Please post a comment below.