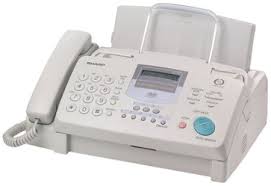 A couple of weeks ago I had the great honor to visit at WIPO with the heads of some of the PCT processing teams.  These are the people at the International Bureau who interact with callers (applicants and patent practitioners) who have questions and problems relating to PCT.  One of the things that they mentioned to me, that I found puzzling when I first heard it, is that in recent months they have received ever-increasing numbers of complaints from people who call to report that they try to send faxes to the International Bureau and are unable to do so.  Upon reflection I now realize the likely cause of this problem.  And it is definitely not that there is some recent malfunction in WIPO's fax machines.
The answer turns out to be VOIP (voice over Internet protocol).  In a telephone connection that uses voice over IP, the analog signal spoken by the caller is converted into digital form using a "codec", a software algorithm that converts the spoken voice into a stream of data packets.  Somewhere along the way toward the called party, the stream of data packets is converted back into an analog signal.
If the caller and the called party both use VOIP, then almost the entire "talk path" may be by means of this stream of data packets.
In the old days the talk path was analog from end to end.  It was during those old days that the standards and protocols for fax machines were developed.  The designers of those standards took the image of the document that was being faxed, and converted the image into audio signals that were optimized for the analog talk path.  At the receiving end, the fax machine received those same audio signals and converted them back into an image to be printed on paper (or stored in a PDF or TIF image file).
The analog talk path worked very well for the spoken human voice, and also worked very well for sending and receiving faxes.
But now in 2017, fewer and fewer telephone calls take place with an end-to-end analog talk path.  These days, it will almost always turn out that at least one end of the call (either the calling party or the called party, or both) uses VOIP.  The reason for this is simple.  More and more businesses choose to pay 85¢ per month for a VOIP telephone line rather than $40 per month for an analog telephone line.  (See my blog article "Reducing the cost of four telephone lines from $160 per month to 85¢ per month".)
But the problem is that the codecs that are commonly used in VOIP are codecs that are optimized for the human voice but are no good at all for the audio signals that are used by fax machines.
We've seen this in our own office.  A few months ago we migrated our telephone lines from $40-per-month legacy analog lines to 85¢-per-month VOIP lines.  We almost never send faxes any more, but eventually after the migration was completed, the day came that we needed to send a fax to somebody.  And the fax did not go through reliably.  We have fiddled and fiddled with our various equipment settings and although we have found settings that allow us fairly reliably once again to send faxes to domestic locations, we still cannot reliably send faxes to international locations using our legacy fax machine.
The worst case (from the point of view of faxes going through) is where the called party did the same thing that we did — migrating from expensive legacy analog lines to inexpensive VOIP lines.  Likely as not, their system uses a different VOIP codec from the one that we use, meaning that somewhere along the line, some intermediate VOIP server has to convert the data packets in real time from one codec to another codec.  Such conversions are not likely to be noticed by human users who are speaking and listening.  But such conversions impose substantial degradation upon the audio signals that fax machines use to communicate with each other.
A particular firm or company might make a business decision to continue paying $40 per month for a single analog line to be used for sending of faxes.  In the case of our firm, we almost never send faxes any more.  I checked our fax logs recently and we send on average only about eight international faxes per year.  Should we pay $480 per year for a legacy analog telephone line, thus incurring a cost of $60 per international fax?  Bizarrely it would actually be cheaper simply to send a courier package instead of each of these international faxes.
You'll recall my recent blog article in which I looked up a dozen or so well-known IP firms in the US to see whether they now use VOIP lines instead of legacy analog lines.  Nearly all of them had made the switch to VOIP.    At any of these firms (unless they have preserved a single legacy analog line for fax sending) the result will likely be that they cannot send faxes any more to WIPO (nor to any other international destination) using a traditional fax machine like the one shown above.
There are a few things that a firm or business can do to preserve the ability to send and receive faxes.  First, there's little or no reason these days to receive faxes on a legacy fax machine like the one shown above.  The smart way to receive faxes is by means of a fax-to-email service.  We use voip.ms and it costs a mere $2 per month.  The faxes show up by email as PDF files, which we can then save to our file server or print out as needed.
But that still leaves the problem of how to send faxes.  Yes as mentioned above one option is to continue paying a $40 monthly fee for a legacy telephone line for sending of faxes.  But I think that as time goes on, the trend will be simply to stop using fax as a means of outbound communication.
In the case of communications directed to the International Bureau of WIPO, clearly the Best Practice is not to use fax any more, but instead to use Internet-based approaches.  For PCT the Best Practice is to use an ePCT "action", or for a communication for which no "action" is available the Best Practice to use an ePCT "upload".  For most submissions relating to Madrid Protocol, the Best Practice is to do an "upload" in the Madrid Portfolio Manager.
There are service providers that will send a fax for you on your behalf.  You upload a PDF to the server of the service provider, and indicate the fax number to which you are sending the fax, and the service provider sends it for you.  A fax being sent in this way never passes through your firm or business telephone system and so is not affected by the type of telephone lines (for example, VOIP) that you use.
(Yes I already know about the T38 protocol that is supposed to permit faxes to be sent over VOIP.  And yes I already know about "overseas mode" on Brother fax machines.)
Did your firm or business recently migrate your telephone service to VOIP?  Did this make it difficult or impossible for you to send faxes using a traditional fax machine?  Please post a comment below to share your experience.