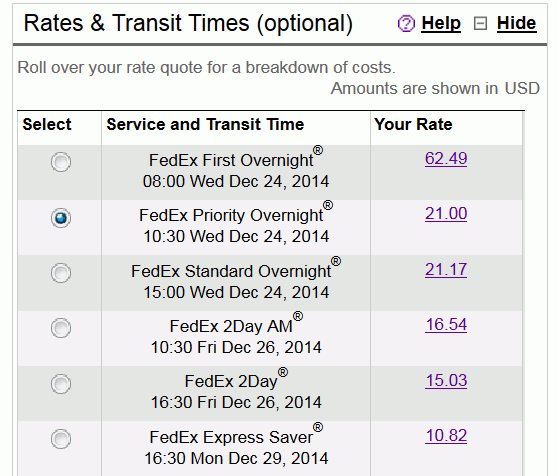 Whenever you generate a Federal Express shipping label, you reach a place where you have to pick which service you want.  In general you would expect that the faster service costs more than that slower service.  But no!
As you can see from the screen shot above, for a recent shipment I saw that "standard overnight", which means by 3 PM tomorrow, actually costs more than "priority overnight", which means by 10:30 AM tomorrow.
Saying this another way, if I force Fedex to deliver the package four and a half hours earlier, I save seventeen cents.
I've seen anomalies like this in Fedex's pricing many, many times.  Most often the anomaly presents itself when the type of package is the "Fedex envelope".  I have seen it for domestic shipments and for international shipments.
Next time you are getting ready to send a Fedex envelope, click on the "calculate" link that displays the shipping cost.  See if you run into this anomaly — that the faster service costs less money than the slower service.  I hope you will post a comment here about it.