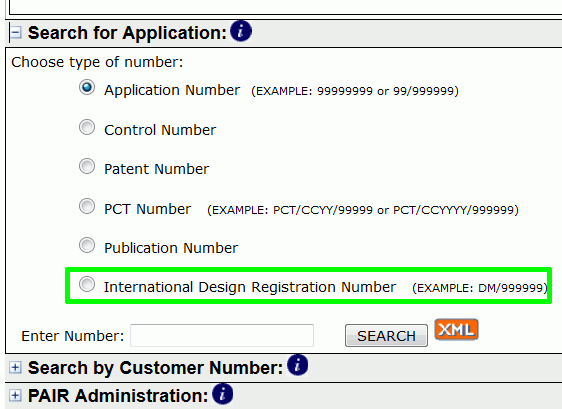 The USPTO has made some preparations for the eventual accession by the USPTO to the Hague Agreement.  One preparation is picking the new "series code" (my blog here) that USPTO will use to denote that a US application came from Hague.  Another preparation is a new search functionality in PAIR, as you may see in the screen shot.
In this screen shot you can see that one of the kinds of searches you will be able to do in PAIR is to search according to the International Design Registration Number.  The way that you would search this is to type in (for example) "DM/123456".  The first two letters "DM" mean that the number that follows is an International Design Registration Number.
Such a search won't work today (Saturday November 8).  The search won't work until the Hague Agreement comes into effect in the US.  That will happen three months after the US deposits its "instrument of accession" to the International Bureau of WIPO.