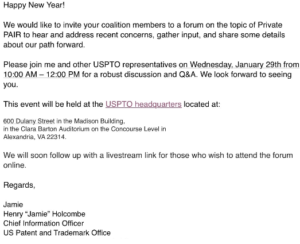 (Update on March 1, 2020: A month has passed and I have still heard nothing back from Mr. Holcombe's office in response to my telephone and email inquiries.)
Today I learned that yesterday the USPTO's Chief Information Office, Mr. Henry Holcombe, hosted a forum on the topic of Private PAIR. I don't know how Mr. Holcombe chose his guest list. But what astonishes me is that no invitation was extended to the PAIR listserv.
The PAIR listserv is a community of over four hundred patent practitioners who make daily use of the PAIR system. My guess is that many or most of the "coalition members" who got invited to this forum are companies that make money by scraping data from USPTO systems, not by paying money to the USPTO. In contrast, the members of the PAIR listserv are paying customers of the USPTO, who collectively pay tens of millions of dollars to the USPTO annually.
Mr. Holcombe's stated goal of addressing recent concerns, gathering input, and sharing some details about his path forward would have been well served by reaching out to the PAIR listserv.
I contacted Mr. Holcombe's office about this but have not gotten any response.