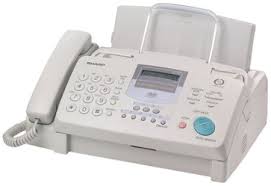 When I founded our firm a quarter of a century ago, I did some of the things that were absolutely mandatory in those days, for example:
Contact Martindale-Hubbell to get the firm listed there
Get a postage meter
Get a fax machine and connect it with a dedicated land line telephone line
We used to pay a thousand dollars a year for our listing in Martindale-Hubbell, but we dropped that maybe ten years ago.  We got rid of our postage meter, which used to cost us a hundred dollars a month, maybe five years ago.  And now in 2018 we have dropped our public fax number.  Maybe you should, too.  
What happened within the past couple of years is that almost no businesses use land line telephone lines any more.  A traditional land line costs $40 or more per month.  If you migrate to a SIP trunk, your monthly phone bill drops to maybe 85¢ per month (see my blog article about our firm's migration to SIP trunks).  Pretty much every business, everywhere in the world, has carried out this migration.
Which is fine, except that fax machines were designed in a way that won't work on SIP trunks (see my blog article about this).
This development, that nowadays one cannot reliably send a fax, especially internationally, led WIPO to announce recently that the IB is considering "the discontinuation of PCT fax services at the IB entirely from the end of 2018."  What's more, WIPO already announced that it has discontinued Madrid-related fax services on April 1, 2018.
Recently at OPLF we reviewed all of the faxes that we received in recent months.  We had received maybe twenty faxes in the past few months, every one of which was a junk fax.  Most of the faxes were for driveway resurfacing or discount vacation packages.  Notably, not one of the faxes received in recent months was from a client or foreign associate.
So we deleted the listing of a fax number on our firm's web site.  We removed it from our letterhead.  We no longer provide a fax number on our business cards.
We then took the somewhat scary step of disconnecting that fax number.  So far as I can see, this will disappoint no one except the providers of driveway resurfacing services and discount vacation packages.  Yes, I worry a little bit that some foreign associate might try to send urgent instructions to us by fax.  But I do not worry very much.
We did pick up a new fax number.  It is, of course, a fax-to-email service.  It cost us nothing (no installation fee or setup fee) to get the new number and the service costs only $2 per month from our SIP trunk provider (see voip.ms).  The new fax number is not published anywhere.  But if some caller (such as a client or foreign associate) were to contact us wishing to send a fax, we will be able to look up the number on our intranet and provide the number to the caller.
Importantly, if the new fax number were to fall into the wrong hands, leading to a new stream of junk faxes, we could very easily cancel that fax number and get a new fax number from our SIP trunk provider.
My best guess is that in the next twelve months, the number of times that a client or foreign associate will contact us wishing to send a fax will turn out to be zero.
Do you still list a fax number on your web site and letterhead and business cards?  If so, why?  Please post a comment below.