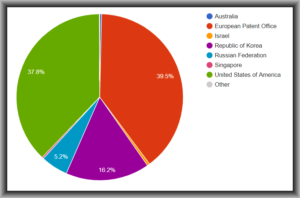 WIPO provides a very nice statistics lookup tool on its web site. I used that tool to make this pie chart showing the International Searching Authorities that were chosen in 2018 by filers in RO/US.
As you can see, ISA/EP, ISA/KR, ISA/RU and ISA/US accounted for virtually all choices made by US filers. Ranked by percentage, they were:
39.48% EP
37.79% US
16.23% KR
5.24% RU
These four ISAs together accounted for more than 98 percent of choices.