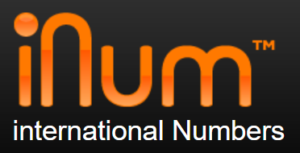 A decade ago some Internet geeks set up a new kind of telephone number — an "iNum" telephone number. A regular telephone number always starts with a country code. Calls to Switzerland for example use a country code of "41". Calls to North America use a country code of "1". Just by looking at the telephone number, you can see what country it is associated with. But not iNum numbers.
The idea of an iNum number (see Wikipedia article) is that it tries to accomplish an end run around the PSTN (public switched telephone network). I have obtained some iNum numbers and I will be trying to figure out how best to put them into use. Here is one of the numbers:
The point of an iNum number is that you might be anywhere in the world, and if you dial that number, it will go through. And when it goes through, hopefully it will be a free call or will cost no more than the cost of a local telephone call. The organizers of iNum have set it up so that any telephone company can, if it wishes, connect an iNum call in a way that costs nothing (through VOIP).
It will not surprise you when I say that if you have an iNum number, you can receive calls for free. You can be anywhere in the world, and receive calls for free on your iNum number.
Although iNum numbers have been around for a decade now, some telephone companies have not yet gone to the trouble to configure their network to handle such a call. So depending on which telephone company use are using to place your outgoing calls, you might dial the number and maybe the call would not go through.
I would be most grateful if you, dear reader, would place three test calls to this telephone number +883-5100-0990-5635. (Add the appropriate international prefix such as 011, +, or 00 as needed.) Please make a first test call from your office phone (which is probably a VOIP line). And please make a second test call from your home landline (if you have one!) which is probably a VOIP line. And please make a third test call from your cell phone.
Your best likelihood of success is if the telephone that you are calling from uses SIP telephone service (see blog article describing our migration to SIP service which reduced our telephone bill from $160 per month to 85¢ per month). If you have already migrated your office to SIP, then very likely you can dial the test number and have the call go through. (Also, if you have already migrated your office to SIP, then very likely you could get your own iNum telephone number for incoming calls so that SIP users all around the world could call you for free.)
I hope that readers from every country around the world will try this so that I can get a good sense of how many phone companies around the world have gotten this working.
When you place a test call, it might not go through. See below for a suggestion what you might want to do if the call does not go through. If the test call does go through, you will hear my voice and I will invite you to leave a telephone message. Please leave a message letting me know what country you are calling from, and which telephone company you are using to place the call. Later I will collect everybody's messages and I will aggregate them and post a followup article describing the results.
If the call does not go through on a particular carrier, please consider sending a polite letter (here is a template) to that carrier.
The alert reader might ask "how may I get one of these trendy, modern and up-to-date iNum telephone numbers?" And the answer is, if you are using VOIP for your telephone service, probably your VOIP provider will give you an iNum telephone number free of charge. In our office, we use voip.ms for most of our VOIP needs, and they gave us an iNum number free of charge.
Again, dear reader, thank you for making the three test calls.