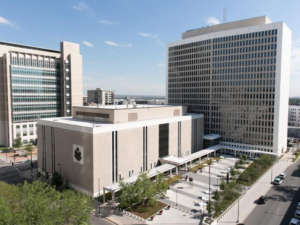 The Denver patent office (which is quite nearby to our firm's Broomfield office) has been open for a couple of years now.
Finally yesterday we had an opportunity to do something for the first time that we had been waiting for for a very long time.  We got to conduct an in-person interview with a patent examiner in the Denver patent office!
Yes, one of our pending patent applications got assigned to an Examiner who is a teleworker located here in Colorado.  And so this happy bit of luck made it possible to conduct this interview.
Oh, and for what it's worth I am delighted to be able to report that we were able to reach agreement with the Examiner.  We will soon receive an Examiner's Amendment and Notice of Allowance, all in the first Office Action.  The client is delighted at this result.
Have you conducted in-person interviews at any of the regional patent offices (Denver, San Jose, Dallas, Detroit)?  If so, how did it go?  Was it easy or difficult to arrange the interview with the Examiner?  Please post a comment below.