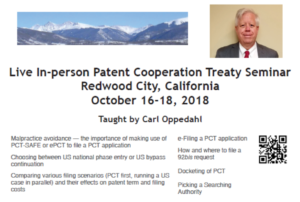 Recently I scheduled a PCT Seminar which will take place in Silicon Valley in October.  One question was, how to publicize it?  And I realized that one possible approach would be to mail out post cards to people in Silicon Valley who are registered to practice before the USPTO.
So the question was, how to accomplish getting post cards sent to these people?
In the old days, the way one would accomplish this is to go to a local printer, get post cards printed, put stamps on them, and mail them.  Or you would obtain a postal permit and go through the many steps required to mail such post cards without putting stamps on the cards.  And of course one would need to print address labels and put the labels onto the cards.
Regular readers of this "office tech" department of my blog can guess what is coming next in this blog article.  Of course it turns out that nowadays there are Internet-based ways to do this that are much more efficient and very inexpensive.
The company that I settled upon is Printing For Less, a company located in … well it sort of doesn't matter where they are located, right?  Not in the year 2018, where everything is electronic and virtual.  On the internet, nobody know's your a dog, right?  Anyway, so there's this nice company located (it turns out) in Livingston, Montana, and it has lots of nice people.  Well, I think that's where they are located, but it sort of doesn't matter.  And whoever is there, they are very nice.  I've not met them, but they are very nice.
There are lots of other companies that offer services like this company.  I'm just telling you about this one because they are the ones that I settled upon when I searched the Internet to pick a company for this project.
Anyway, the way this works is, I send them a PDF of the front of the post card (in color), and a PDF of the back of the post card (in black and white).  And I send a spreadsheet with the mailing addresses to which the post card should be sent.  And I send them about 62¢ per post card.
For this money, what I get is the following:
Somebody who is really good at this stuff reviews the two PDFs to make sure they satisfy various printing-quality requirements (dots per inch, margins, etc.).   They send me a proof.
When I approve the proof, they print the cards using a high-quality printer and they put a "gloss aqueous coating" on the color side which makes it look extra spiffy.
Then they print the addresses onto the cards.  The cards are printed in a way that is "machinable" meaning that they will pass smoothly through USPS's sorting machines.
Then they do a "postal presort" which means they put the cards into trays with dividers in particular places, which makes life easier for the postal clerks who are going to toss the cards into particular mail bags based upon the delivery areas.  This qualifies the post cards for about 27¢ postage instead of the usual 35¢ postage.  And it means the USPS will deliver them as quickly as the USPS ever delivers anything.
Then they take them to the post office and mail them.
If I were to try to do all this myself, using a local printer, or trying to print the cards myself on my own color laser printer, the project would surely yield out-of-pocket and internal labor costs well in excess of $1 per card.
Instead I don't have to do any work at all.  Yes, I have to prepare two PDF files, and I have to send three data files to the vendor.  And I have to pay them $620 to get 1000 cards mailed.  But it's super easy compared with trying to do it myself.
My reason for telling you this is, if you ever decide you need to mail out post cards, this is the way to do it.
Now, having somehow kept you from falling asleep all the way down to this part of the blog article … I will invite your comments on the actual cards that I mailed out last week.  I prepared two distinct card designs — one with attendee quotes from a recent seminar, and another with agenda topics.  I sent the first card to 1000 registered practitioners in Silicon Valley and I sent the second card to another 1000 registered practitioners in Silicon Valley.  You can see them above.
The cards have coupon codes on them for the reader to get $100 off the registration price for the seminar.  Two different codes, one for each card.  So I will know whether one card or the other yields more registrations.
My question for you the long-suffering reader is … do you think one card or the other, had it landed in your mailbox, would be more likely to prompt you to sign up?  Do you think one card or the other, had it landed in your mailbox, would be more likely to get tossed immediately into the trash?
Later I will post a followup blog article summarizing in percentage terms the actual results from the two mailings.
Thanks in advance for your comments.