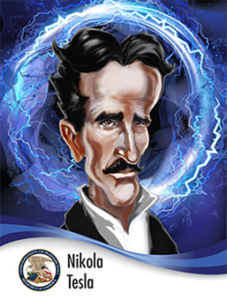 Only today I learned of the hottest collectible these days — trading cards issued by the US Patent and Trademark Office.  My personal favorite is the Nikola Tesla trading card.  Nikola Tesla, famed inventor and proponent of alternating current, operated an enormous experimental wireless power transmission station near Colorado Springs around 1899-1904.
The trading cards, the first of which were released in 2012, now number more than two dozen.  In a visit recently to the Denver patent office (which is nearby to my firm's main office in Broomfield), I was delighted to receive a complete set of all of the USPTO trading cards now extant.
If you know a youngster who might be encouraged to study STEM (science, technology, engineering and mathematics) and maybe to become an inventor, take that child to your nearby patent office, ask nicely, and I'll bet the friendly folks there will be glad to give that youngster a set of these trading cards.