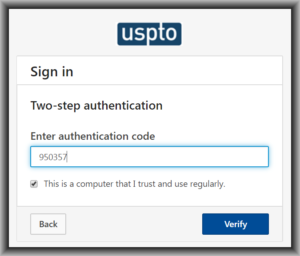 (I have posted a followup article.)
Hello readers who are in the US. We all are familiar with this checkbox "this is a computer that I trust and use regularly". USPTO tells us that supposedly if we check this box, then for the next 24 hours we will be saved from the time-waste of having to do the two-step authentication. This check box is super important given that a year or so ago the USPTO went against user wishes and shortened the forced-logout time interval from 60 minutes to a mere 30 minutes. Anyway as readers know, this check box almost never actually works. Finally today I figured out why it almost never works.
The answer, it turns out, is that the two-factor software makes use of the microphone in your computer or smart phone or tablet to detect sneezes. If you have sneezed since the last time you entered a two-factor authentication code, this resets the check box. This is why you almost always have to enter another two-factor authentication code after one of the 30-minute forced logouts. So the key is to avoid sneezing when using USPTO online resources. When you feel a sneeze is imminent, go out of the room so that your computer or smart phone or tablet will not pick up the sound of the sneeze.
Readers will be glad to know of this workaround for the poorly functioning checkbox. I'm sure it will work for you. Please post a comment below.