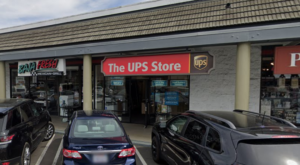 (Updated: Now on March 30, this case has passed Final Review prior to publication. The Final Review person also snoozed through the fact of the applicant having failed to reveal its domicile to the Trademark Office.)
The Trademark Office is so lacking in uniformity in its efforts to inquire into where a trademark applicant sleeps at night. Here's yet another example of the Trademark Office letting an applicant get away with not revealing to the Trademark Office where it sleeps at night. This is the same Trademark Office that has told me that it will cancel my trademark registration unless I reveal where I sleep at night.
Today's example is US trademark application number 88745153 which may be seen in TSDR. The address which the trademark applicant provided is:
Suite 345
13428 Maxella Ave
Marina Del Rey, CA 90292

The Trademark Office validated this address in the USPS database and then discarded the CMRA information which the USPS provided to the Trademark Office, shown at right. The USPS told the Trademark Office "Y" meaning that this address is a Commercial Mail Receiving Agency. You can Google it. This address is a UPS Store. You can see this actual UPS Store from Google Street View, above. This trademark applicant's address is box number 345 at that very UPS Store shown in the photograph.
In other words, this trademark applicant has not revealed to the Trademark Office where it sleeps at night. The Commissioner for Trademarks was quoted as saying "you can't live in a PO box."
But the Trademark Office snoozed through this one. On March 27, 2020 the Trademark Office approved this application to be published for opposition. There wasn't even an Office Action.
It will be interesting to see whether, subsequent to this blog article, the Trademark Office withdraws this approval during Final Review Prior To Publication.