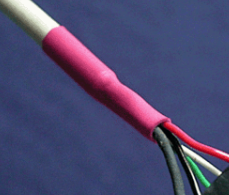 Here is something about heat-shrink tubing that I bet you never thought about. If well designed, it shrinks only circumferentially and not axially. Yeah! That's the part I never thought about until somebody told me. And then my reaction was, yes of course. You would never want it to be any other way! Meaning that the material, although visually undistinguished in one direction or another, is extremely anisotropic as to the two directions, the circumferential direction on the one hand and the axial direction on the other hand, in terms of what it does when you heat it. So how does the manufacturer make that happen?
The answer turns out to be, the maker of the tubing heats it up and stretches it circumferentially while not stretching it axially, and then quenches it (cools it extremely quickly). What you finish with is plastic material with a strong memory in it, a stored energy that is released when you warm it up again, and it reshapes itself to move toward a low-energy state that is the original "shrunk" dimensions.
If you go to a hardware store and buy heat-shrink tubing it will usually be black, and this usually means it has a UV blocker in it. The plastic has a sort of built-in sunblock lotion with a high SPF.
I guess the main point of this blog article is my sense of wonder that of course the material from which heat-shrink tubing is made must be extremely anisotropic, and yet until just now I had never thought about that requirement.
Have you thought about heat-shrink tubing? If so, what have you thought about it? Please post a comment below.