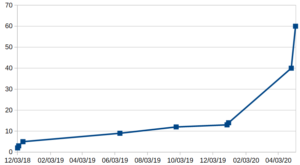 US national phase entries in Patentcenter are assigned from a block application numbers starting at 15/733,001. Our firm was the third ever to file a 371 case in Patentcenter, receiving application number 15/733,003.
By the end of 2019, there had been fifteen 371 cases filed. My firm had filed seven of those cases. Yes my firm had done about half of all of the US national-phase work in Patentcenter from the beginnings of alpha test until the end of 2019.
By now, with Patentcenter opening up for general use, there has been an uptick in national-phase filings in Patentcenter. Twenty of them have been filed just in the past eight days.