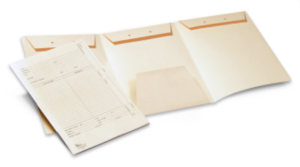 What a walk down memory lane! In one of the patent practitioner listservs, a member today asked where they could purchase heavy-duty trifold patent file folders.
When I was first in practice, I suppose everybody used folders like these. In our office, the left-hand section was for client correspondence. The middle section was the correspondence to and from the Patent Office (other than drawings). The right-hand section was for drawings.
The front of the folder had preprinted fields for bibliographic data. Title, application number, art unit, examiner name, reel and frame number. A large tabular area in the middle of the front of the folder was intended to receive a handwritten log of all of the correspondence to and from the Patent Office.
Our firm went "paperless" in about 2008. I say "paperless" in quotation marks because even now we consume boxes and boxes of printer paper and cartridges and cartridges of toner and ink in our printers. But it was in about 2008 that we stopped using paper files and instead, the authoritative files in our office were electronic files stored on a file server. (In those days the file server got backed up by means of physical data cartridges that got transported to the homes of selected firm personnel every day. Nowadays it is a real-time backup to mirrored file servers located in the homes of selected firm personnel.)
At the USPTO, the color of the folder denoted the "series code". 05 was one color, 04 was another.
In our office, manila was for domestic US patent files. Orange was for foreign files.
I was quite surprised to learn that even now there are office-supply companies that stock and sell sturdy trifold patent file folders. They cost about four dollars each and are printed on 130-pound cardboard stock.
I gather that in some offices, the three sections of a trifold file folder got used in different ways than I described above. Did you use them differently in your office?
What colors did you use in your office for the files of different types? Please post a comment below.