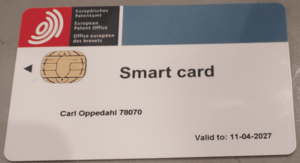 There are quite a few ways to set up two-factor authentication in ePCT. Last week there was a problem with the SMS-type 2FA in ePCT, and users who had failed to set up a second type of 2FA found themselves unable to log in. This offers a reminder that you should always have at least two types of 2FA set up with your WIPO user ID. I am delighted to report that I have successfully gotten it set up so that I can use my EPO smart card as a form of 2FA in ePCT.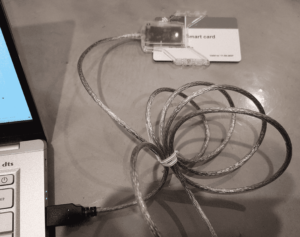 It was interesting to see how easy it turned out to be, getting the EPO smart card. I filled out a form and sent it to the EPO. Later I received a box with this snazzy smart card reader, free of charge. Next thing you know, the smart card itself showed up. Finally, in a separate mailing, a PIN number arrived for unlocking the smart card. All free of charge. EPO does not even charge for shipping.
Getting the smart card set up for use as a form of 2FA in ePCT is a bit of a challenge. It turns out that if you already have a browser certificate set up for 2FA, you have to "unlink" the browser certificate. Then you click around a bit to link the EPO smart card as a form of 2FA. Only when this is done can you link up your browser certificate again to ePCT. In my case, however, I sort of got lucky, because my existing browser certificate happened to have expired at just the moment that I was planning to link the EPO smart card. So I did not need to do anything about "unlinking" the old browser certificate.
Most power users of ePCT use a browser certificate as their main way to do 2FA. It is by far the fastest and most convenient way to log in at ePCT.
Note: the alert reader will recall that on February 6, 2022 I announced (blog article) that Real Soon Now I would be offering fifteen webinars about ePCT. I keep sort of hoping that I would get these webinars scheduled. I hope to get them scheduled Real Soon Now.