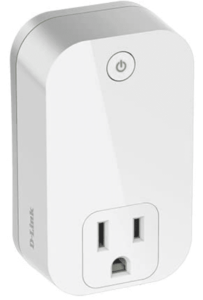 I was astonished to hear from D-Link that it has shut down its cloud that makes its smart plugs work.  Pictured at right is one of the three DSP-W110 smart plugs that I purchased from D-Link in 2016.  I still own the plugs and one of the plugs still has a device plugged into it — a table lamp.
But as of today, I cannot turn the lamp on or off using the app on my smart phone.  As of today, the D-Link smart plugs don't do anything any more. 
This offers a reminder of what it means to purcase an internet-of-things (IOT) device that depends on a cloud.  I still own the D-Link physical devices, and the physical devices have not physically failed, but for all practical purposes the physical devices have become bricks.  (Even now I can tap the on-off button on the smart plug, and the lamp turns on and off, but that is the limit of what the smart plug can do now.)
The march toward "brick" status for these devices had its first step in May of 2020 when D-Link quietly turned off the connection between its cloud and IFTTT (If This Then That).  I had not been making use of IFTTT with these smart plugs, so that change did not affect me directly.
Now in December of 2022, about six years after I had put these D-Link smart plugs into service, D-Link has turned off its cloud completely.
To its credit, I do see that D-Link made at least half-hearted efforts to let me know it was shutting down its cloud.  As I look back through old email messages, I see that D-Link emailed me on February 15, 2022 to say that it was shutting down its cloud.  At the time, I skipped over the message, which had the unhelpful subject line "End of Service Announcement".  D-Link sent a second email on December 15, 2022 with a more meaningful subject line "Reminder: mydlink Home and mydlink Baby Camera Monitor End-of-Service this month".  D-Link's third and final email "End-of-Service for mydlink Home and mydlink Baby Camera Monitor" arrived yesterday.  D-Link said this:
As explained in the previous communication, while we try to maintain support and related services after our products are sold for as long as possible, technologies evolve and security requirements change, so we had to make this difficult decision.
As I click around on my smart phone, I see a dozen IOT cloud apps from various corporations.  Some of the corporations are small and some of them are corporations that I never heard of until I purchased their IOT device and downloaded the associated smart phone app, and placed the device into service.  I guess all of us have sort of vaguely known all along that any IOT device that we purchase might turn into a brick at any time if the maker goes out of business (meaning that its cloud evaporates).
But D-Link is a company that has been around for many years and is a recognized high-tech brand name.  I would not have expected to see D-Link turning a customer's IOT devices into bricks.
Maybe D-Link is on the ropes.  The most recent press release on D-Link's corporate web site is dated October 21, 2021.  That's a pretty long time ago.
I am astonished to see that as of right now, Amazon still sells these DSP-W110 smart plugs (link).  The Amazon listing still says "Home Control From Anywhere with mydlink App".
At this point I am glad that the IOT devices that I use for important home automation tasks are able to work without needing to connect to any cloud.  Most of my home automation tasks are carried out by Xytronics devices (see blog article Monitoring a sump pit) that talk to each other locally and do not need any cloud to do their jobs.
Have you had some IOT device become a brick because its cloud evaporated?  Please post a comment below.