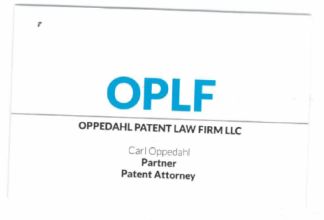 The USPTO bounced this specimen.  I wonder who agrees or disagrees with the USPTO bouncing this specimen?
The mark is a standard character mark "OPLF".  (Here is the TARR record.)  Here are the identified services:
copyright management
copyright management consultation
intellectual property consultation
intellectual property watch services
legal services, namely, preparation of applications for trademark registration
legal services, namely, trademark maintenance services
legal services, namely, trademark searching and clearance services
licensing of intellectual property
patent agent services
patent and industrial property consultation
patent licensing
providing a web site featuring information about patents and patent applications
providing assistance in the prosecution of trademark applications
providing information about intellectual and industrial property rights
trademark watch services
The USPTO has bounced the specimen, saying:
The specimen submitted with the Section 8 Affidavit is unacceptable because it comprises business cards that do not reference the services identified in the registration.
I welcome comments on this.  I wonder who agrees with the USPTO that the card does not reference (any of) the services.