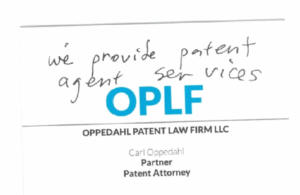 Readers will recall my posting on July 21 in which I complained about the USPTO's post-registration division bouncing a specimen in the renewal of my own trademark registration.  I was trying to do an 8-and-15 for my mark "OPLF".  The services were all drawn from the ID Manual, and it seemed to me that the words "Patent Attorney" on the card made clear that I was providing patent attorney services.  But that's not how post-reg saw it.  The way they saw it, the business card supposedly failed to "reference" the services.  They bounced the specimen.
I wish I had the time and the energy to fight back each time I think the USPTO gets something wrong.  But on this one I folded.  I took the card that I had sent in before as a specimen (which post-reg bounced), and hand-wrote the words "we provide patent agent services" on the card.  I sent it in again.  (You can see the new specimen above.)  Fifteen days later, post-reg accepted the specimen.  Yes, because I folded, the registration remains in force for another four years, and it is now incontestable.
Just to be on the safe side, I will be sure to hand out one or two cards with such a handwritten message in the next week or two.
I guess there is a practice tip lurking in this recent exchange with the USPTO.  If you are working on a renewal and the client offers up a business card as a proposed specimen that ought to be good enough but is at risk of being bounced like my card was, just ask the client to hand-write some of the services on the card.  And I guess tell the client to be sure to hand out one or two such hand-annotated cards to real people.