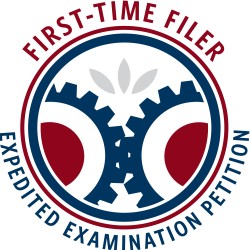 I can't figure out how I missed this!  If you can satisfy fourteen conditions as a first-time patent application filer at the USPTO, you can get your patent application examined faster. 
A Federal Register notice dated March 9, 2023 established this new First-Time Filer Expedited Examination Pilot Program.   Maybe the most striking thing about this initiative is that USPTO resources  got spent devising a logo for the initiative (quoted above right).  To my eye this logo symbolizes what might otherwise have been a fruitful invention, being pulled downwards and pulverized between two gears.  To try to get your US patent application examined faster under this program, you file Form PTO/SB/464.  This form requires the filer to establish fourteen conditions:
The inventor or, where there are joint inventors, each joint inventor has not been named as the sole inventor or a joint inventor on any other nonprovisional application.
The applicant and the inventor or, where there are joint inventors, the applicant and each joint inventor qualify for micro entity status under the gross income basis requirement. Form PTO/SB/15A is or was filed to establish micro entity status.
The inventor or, where there are joint inventors, each joint inventor named on the application is reasonably trained on the basics of the USPTO's patent application process. For applicants who are unsure whether they meet this requirement, exemplary patent application training resources that could be used to meet this requirement are available at https://www.uspto.gov/FirstTimePatentFiler.
The application:

is an original, noncontinuing, nonprovisional utility application filed under 35 U.S.C. § 111(a);
does not claim the benefit of the filing date of any prior-filed nonprovisional application or international application designating the United States;
does not claim a right of foreign priority under 35 U.S.C. § 119(a)-(d) or (f) to any foreign application; and
 is not entering the national stage under the Patent Cooperation Treaty (PCT) as set forth in 35 U.S.C. § 371.

Special status has not been previously granted in this application.
This petition is being filed using Patent Center before a first Office action (including an action containing only a restriction requirement) has issued in the application.
The application is being or was filed using Patent Center.
The application is complete under 37 CFR § 1.51. That is, the application includes a specification, drawing(s) if necessary, at least one claim, an oath or declaration, and payment of all appropriate fees (that is, basic filing, search, and examination fees, and an application size fee if required).
The specification, claim(s) and abstract of the application on filing are being or were submitted in DOCX format.
The applicant agrees that the application may not contain, or be amended to contain, more than three independent claims, more than twenty total claims, or any multiple dependent claims.
The applicant agrees that if any joint inventor is added to the application after a petition has been granted under this program, the applicant must certify (for example, on a separate letter) that the added joint inventor(s) meet(s) the criteria in items (1) – (3) above.
I perceive an anti-foreigner bias in this initiative.  Among other things, an applicant is rendered ineligible under this initiative if the application:
claims the benefit of any prior-filed international patent application, or
claims priority from any foreign patent application, or
is a entry into the US national phase from an international patent application.
I predict that very few applications will gain expedited status under this initiative.  I note that according to the USPTO's web page for this initiative, a whopping four US patent applications have been granted "special" status between March 9, 2023 and May 2, 2023 under this program.